Did you know 20% of the world's population are active users of Gmail? Out of 7.5 billion people in the world, 1.5 billion are active Gmail users. Safe to say, Gmail has clearly dominated the email space this decade. Like most people, I spent my December hunting down Black Friday and Boxing Day sales emails to get the best bang for my buck and noticed that Gmail has subtly introduced a new feature on the app by actively asking, whether I'd like to unsubscribe from certain senders.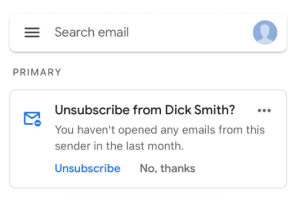 The suggestion is based on how many emails you receive and open from a specific sender, and it means, with just one click, you can unsubscribe, making it even easier to declutter your inbox. Don't worry Dick Smith, I haven't unsubscribed from you, yet. But it did make me realise two things, unsubscribing just got easier and as a marketer, it made life a little bit harder. However, we don't have to see this new feature as a threat but an opportunity to:
Make your subject lines catchy. Marketers, you have all the data, use it. Have the customers name in the subject line, the product they purchased from you recently or anything that tags the customer back to your brand. By using these tactics, it tells me that this email I'm about to open is going to be personalised for me. Sure, the words 'take a further 40% off' and 'sale'' will always drive open rates but are they sustainable? Do you only want your customers to open emails when there's a sale?
Segment your customer list. Long gone are those days that you blast your entire customer base with your latest weekly newsletter. Tailor your content to your customer list based on different data, such as behavioural (transactions, product adoption, channel interactions, etc..), location, tenure, gender and overlay it with behavioural tools to further personalise the message and make it more fun. Customers want to see communications that are relevant for them and not an email that shows men's clothing for a female customer.
Bring back the dead. Find the groups of customers that haven't interacted with your brand in the last 4-5 months (depending on your customer purchase lifecycle) and send them the 'take a further 40% off' and 'sale' off campaigns to remind them of your brand. Use this opportunity to highlight the benefits and value of your brand and consider bringing your reactivation campaigns earlier than before to test and learn.
At Digital Alchemy, we think the more relevant the conversations you have with your customers, the more engaged they will become and the more value (and revenue) they will bring back to your brand. This relationship between engagement and value has shown us time and time again that engaged customers result in 40% higher basket values in Retail and 37% of engaged customers are more likely to bring in more revenue to their main bank. Being mindful that we may be preaching to the converted – targeted, relevant emails and sending them to those that actually interact with your brand is key to engagement. Last but not least, diversify your communications strategy to involve other channels because not everyone will interact with emails.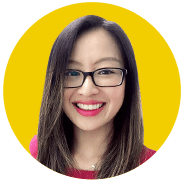 by Natasha Chan, Business Growth Manager of Digital Alchemy.
In addition to playing a key role in recruitment, Natasha is also somewhat surprisingly the only female gamer based in our Digital Alchemy Sydney office. Known among her colleagues and clients for having a great memory and being a real go-getter, Natasha joined the Sales team for a new adventure. You can find more posts from Natasha on the DA Blog.