We have never actually liked the term 'Big Data' at Digital Alchemy. The term implies that you should have large amounts of data to get anything valuable from it or that big is the only aspect of what's distinctive about data.
Several years ago, renowned behavioural economist Dan Ariely tweeted a controversial analogy about big data. He suggested that "Big Data is like teenage sex: everyone talks about it; nobody really knows how to do it; everyone thinks everyone else is doing it; so everyone claims they are doing it."
Big data has gone on to become an industry buzzword used by scientists, governments and businesses across the world. Referring to exceptionally large data sets that can be analysed to reveal behavioural trends and patterns.
In this digital era, almost everything we do generates data; commuting to work on public transport (generating tap on and off data of your travel), connecting to your home theatre using voice activation (generating data on what movies you selected), and purchasing goods online (generating shopping behaviour data).
However,  understanding these huge volumes of data is far beyond human capabilities, that's why marketers deploy machine learning solutions to make sense of it.
Machine learning is a subset of Artificial Intelligence, it refers to a computer's ability to automatically learn and improve from incoming data sets. In the context of big data, machine-learning processes can help to generate predictions and guide future decisions.
Machine learning as a driver for increasing revenue.
According to Capgemini, 3 in 4 organizations implementing machine learning increase sales of new products and services by more than 10% . This includes Netflix and YouTube. It probably comes as no surprise that YouTube uses machine learning technology primarily for the creation of 'recommended videos'. By utilising data, combined with the length of the previous video you watched, you'll soon have more videos populating your recommended playlist than you could ever have the time to watch. In fact, more than 70% of videos watched on YouTube are from recommendations rather than from targeted searches.
Netflix has also utilised machine learning to achieve impressive 'recommendation' results for its 100 million+ subscribers worldwide. By helping customers to quickly and effortlessly find desirable content, Netflix estimates that they have avoided more than $1 billion of cancelled subscriptions each year. In addition, Netflix has also been able to use data derived from its viewership statistics to commission several pilot episodes to continue into fully-fledged television series.
These two examples lead us to an important question: "How can marketers deploy machine learning to make sense of their data and improve customer engagement by providing more relevant and personalised communications?"
Identifying your target customer
For Digital Alchemy clients, the process of identifying relevant target customers couldn't be simpler. Via our uDiscover solution, you are able to identify patterns and prominent variables within large data sets in no time. In addition, uDiscover uses machine learning to provide a refined list of target customers that are likely to respond positively to targeted marketing communications. Such an approach is incredibly effective especially in 'high-churn' sectors such as Telco. By identifying customers that exhibit certain behaviours, marketers are able to actively offer deals that are often too good to pass up, making customers reverse their previous decision to look elsewhere.
Determine the most relevant offers
As soon as you have identified the target group you are looking to influence, it is time to determine what you'll say to delight them. This is where uDecide comes in. uDecide is able to identify each customer's preferences and behavioural nuances. With its machine learning capabilities, it learns to prioritise the communications that customers respond to over those that are ignored – all in real time. As such, the engine is able to determine relevant offers, content and messages for each individual customer.
Getting more value from your data
It's important to recognise that the value of your data doesn't depend on how 'big' it is. The value depends on how you use it to make smarter decisions that create more value for your customers. Are you sending impersonal and irrelevant offers? Or targeting the wrong customers, because you didn't look deep enough into your data? It's time to start analysing all that data more effectively to create an improved customer experience – otherwise what's the point of collecting it at all?"
Curious how machine learning can be incorporated into your marketing strategy? Machine learning solutions, like our uDecide and uDiscover, come in a user-friendly 'plug-and-play format', integrating with your existing systems and making the most of your data.
Learn how uDiscover and uDecide can help you create more value for your customers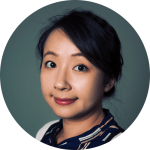 by  Angel Chen, Product Manager at Digital Alchemy.
Angel is passionate about delivering products that solve business problems.  Find more of her thought-provoking pieces on dynamic decisioning and data-driven marketing on our  Blog.
[pardot-form id="46577″ title="Blog Sign up test1″]