One of the most valuable assets your business has is its brand. Each year, Forbes evaluates the monetary values of the world's most powerful brands. The top position is currently owned by Apple, and its brand is estimated to be worth $241.2 billion. This valuation reflects more than just the technology company's products or services. A brand is what customers experience as they interact with each aspect of an organization—from the marketing they encounter before making a purchase, to the actual experience in using the product and even to the customer service whenever they run into issues. Having a positive brand experience is critical across the entire customer journey.
With the rapid adoption of artificial intelligence (AI), more companies are seeking ways to automate and streamline key parts of the customer journey, which ultimately impacts the overall brand experience. In a recent PWC survey, 52 percent of respondents stated the recent COVID-19 pandemic accelerated their AI adoption plans. In 2021, 86 percent stated that AI had become a "mainstream technology" at their companies. According to its survey, 67 percent of all companies and 86 percent of AI-savvy companies stated the greatest benefits from AI came from "creating better customer experiences."
Despite this enthusiasm for how AI can enhance customer experiences, recent personal experiences have caused me to question how AI is being strategically deployed in customer service settings. Unfortunately, it feels as though some organizations are falling into the automation trap of valuing efficiency over effectiveness. Rather than taking a customer-centered approach, they are being seduced by the technology's potential cost savings—and as a result, they're putting their brand experiences at risk.
Recently, my wife forgot an account password that was tied to one of her main devices. Rather than being able to simply reset the password via email or two-factor authentication, the device manufacturer required her to jump through an automated series of security steps that were impossible for her to complete. When we reached out to a support agent for help, they directed us back to the same flawed automated process. Fortunately, we were able to identify an obscure loophole in the process, but it required hours of support phone calls and online research—to just reset her account password.
In another recent example, my son needed to set up a new payment account and connect it to a shopping app so he could sell vintage clothing. However, when he ran into some issues with setting up his new payment account, he tried to finalize the account setup using different devices. Subsequently, he was notified via chatbot that his account had been closed and flagged as fraudulent. In frustration, my Gen Z son was going to give up on using the shopping app altogether when he couldn't tie it to a payment account, but I persuaded him to talk to a support agent who was able to quickly resolve his issues and activate his account.
In both situations, AI technology impaired, not enhanced, the customer experience. In the first example, the automated experience didn't supplement an existing process—it supplanted and broke it. In the second case, the payment firm probably has no idea its fraud detection algorithm was preventing legitimate customers from setting up new accounts.
As former Apple CEO Steve Jobs stated, "You've got to start with the customer experience and work back toward the technology—not the other way around." With many organizations focusing digital transformation initiatives on customer self-service, you must heed Jobs' advice to avoid potential damage to your brand experience.
Conflicting expectations of digital self-service
In the Microsoft 2019 State of Global Customer Service report, people were asked what the most important aspect of a good customer service experience is. The top answer at 35 percent was "resolving issue in one interaction." From a self-service perspective, "finding information myself" was mentioned by 11 percent of the respondents. At the end of the day, customers want resolutions to their problems. The means don't matter as much as the outcomes—resolutions to their problems.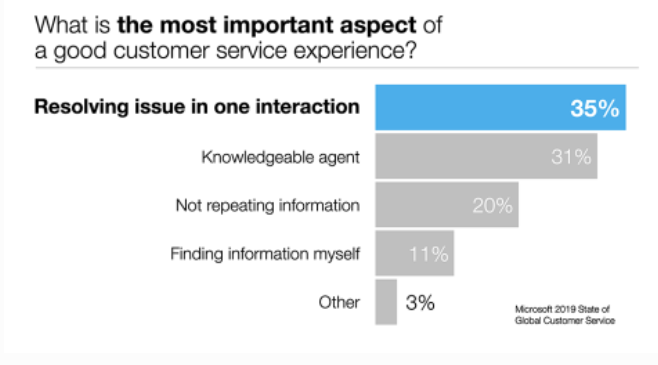 If customers can solve their support issues quickly and easily, all the better. The Microsoft report found "86% of respondents expect a self-service option and two-thirds try self-service first before contacting a live agent." For most people, it's a hassle to wait for a support agent to resolve a simple or basic issue. Most customers are willing to resolve their issues on their own, especially younger generations. While both organizations and their customers appear to share an interest in digital self-service, the underlying motivations aren't always aligned.
In HubSpot's Annual State of Service in 2022 report, almost 40 percent of customer service leaders reported their company viewed "customer service as an expense instead of a driver for growth." The report also noted this represented a nearly 25 percent increase compared to the previous year's results. While customers are motivated to resolve their issues quickly with AI-driven self-service options, many companies view this form of automation as a way to cut costs. If these organizations can steer customers away from using more expensive assisted service options (phone, email, live chat), they can substantially lower their customer service expenses. For example, Juniper Research estimated automated chatbots in the banking industry alone could save $7.3 billion in operational costs by 2023.
In the rush to reduce customer service costs by embracing AI technology and digital channels, phrases such as "digital deflection" and "digital containment" have emerged. These terms feel strange or ill-suited to a business function focused on serving people, but they reflect a prioritization of efficiency over effectiveness.
Customer interactions are now viewed as unwanted attacks to profitability that must be deflected. Furthermore, as potentially harmful threats, customers must be contained in digital channels so they can't infect the business with excessive support requests. It's hard to see how such an adversarial standpoint can lead to anything but negative customer experiences. Organizations that use these terms are focused on support tickets, not customer relationships.
Shift from a brand-eroding to a brand-building AI strategy
In the Microsoft report, "90% of respondents indicated that customer service is important to their choice of and loyalty to a brand." By focusing exclusively on cost savings with your AI strategy, your organization could be sabotaging its own brand reputation. Instead, it should be using technology to drive faster resolutions to increase customer satisfaction. You should consider shifting your company's AI strategy in the following three ways:
Greater collaboration between your AI team and customer service subject matter experts (SMEs). Microsoft found most chatbots had been built by developers and data scientists with minimal input from customer service SMEs. They highlighted it could explain "why only a third of respondents reported having their issue resolved by a bot while two-thirds were either transferred to an agent or simply gave up." To solve real customer challenges and deliver tangible value, your AI team must collaborate with people who have domain expertise.
Don't forget to ask for customer feedback and iterate. Voice-of-customer (VOC) information can be insightful, especially as you roll out and test new digital and AI options to improve your customer service offerings. Microsoft reported only seven percent of companies frequently requested feedback from their customers. Through a mix of quantitative and qualitative data, you can obtain valuable insights to streamline and enhance the customer experience. AI also requires continuous development—it can't be a solution that you simply deploy and forget. Analytics and VOC feedback will be essential to optimizing your AI efforts over time.
Be proactive, not just reactive. In most cases, customer service teams respond to customer issues as they occur. However, organizations are increasingly using AI to identify, communicate and address potential issues before they become more serious problems.Proactive services may not necessarily reduce contact volumes or support costs, but they can engage customers and lead to better outcomes.
While managing customer service costs is important, it should be secondary to delivering the best customer experience possible. It's estimated that acquiring a new customer is at least five times more expensive than retaining an existing one. You can't afford to deliver a poor experience at any stage in the customer journey, but especially not when your existing customers are seeking help with issues. Research has found companies with high satisfaction ratings "grow revenues roughly 2.5 times as fast as their industry peers and deliver two to five times the shareholder returns over the next 10 years." By only viewing customer service as an expense, you significantly limit the value it can generate for your business.
Innovative applications of AI across digital channels will play a significant role in the future of customer service. If you heed Steve Jobs' advice and make the customer experience the guiding force behind your AI strategy, you won't endanger your brand. The technology can be a positive yet seemingly invisible force that strengthens your overall brand. In the not-too-distant future, a customer-centric AI strategy may be what separates today's most respected firms from tomorrow's leading brands.
The following article from Brent Dykes, 2022 provides their research perspective. HERE