There have been numerous studies that show that AI contrary to conventional wisdom does not in fact reduce employment, rather it creates jobs. Here are my own views and experience of how AI creates work.
When people think about implementing AI to decision what offer or promotion to present to a customer (in any channel), this simultaneously starts the conversation about what offers they have. In many cases non-retailers will say that they don't need AI, because they don't have enough offers or things to say to customers. Conventional decisioning methods like next best offer models or business rules can do the job. On one hand this makes perfect sense, a limited amount of offers, the increase in level of accuracy provided by AI probably doesn't add much value. The problem is this argument kinda misses the point.
If you take an insurance company for example, they would reasonably argue that they don't have many things to sell to a customer; a different insurance policy, an upgrade or some additional benefits. This can be managed by a simple rule or model that says if the customer doesn't have it, offer it, which might come down to 10 different offers in total. This is what I call the Least Worst Offer (LWO).
Even though we go to the trouble of building a model or rules, we approach the problem from the brand's perspective not the customer's perspective. It's not the best offer we can make a customer, it's the least worst of all of the things we could say.
The concept of LWO is an important one, because many organisations fool themselves into thinking they are being customer-centric and granted they are better than asking everyone "Would you like fries with that?". But is it really as good as it gets?
This is where AI meets job creation in marketing. It starts with the idea that there are 10 different offers or interactions an insurance company can have with a customer. But let me ask you this, if a brand has 5 products, with 10 features each, 3 different pricing plans and 1,000,000 customers, how can they only have 10 different offers? Is it possible to distil that level of diversity and complexity into 10 offers?
Of course it's not. In the past we have been working with many constraints, which forced us to limit the number of customer offers, not least of which has been our ability to create and manage a larger range of offers. Then what does AI really do? AI releases resources from the operations of offer management, so that they can be redeployed into creating offers and messages that are more likely to resonate with your customers.
We, at Digital Alchemy, have created a framework to help you with this. This framework develops interactions aimed at motivating customers based on easy-to-understand psychological techniques, in total there are more than 65 techniques in the framework. Here is an example of how it works.
Imagine you have a retention offer for a home loan…  A standard retention offer for a home loan might look something like this :
"Your home loan is due for renewal soon, renew now for a 0.5% discount on the rate."
However, when using our framework, here are some additional propositions based on a handful in the overall framework:
Social Proof – "90% of our customers renew their home loans with us, renew yours now and get a 0.5% discount."
Nostalgia effect – "We love that we have helped you buy your home 10 years ago. Don't forget to rollover your loan, renew yours now and get a 0.5% discount for old times' sake."
Sunk Cost Fallacy – "Avoid the hassle of reapplying for your loan, rollover now and get 0.5% discount."
Fear of Loss – "Rollover your home loan now or your special 0.5% discount will expire in 7 days."
Different customers will be responsive to different techniques. This is where AI can help decision and optimise which technique is right for each particular customer.
Now imagine being able to connect with your customers at this deep psychological level rather than taking a punt on one message for all. Unless you are in an industry where all your customers are of a single psychological profile, you no longer need to be content with one offer, one proposition, one message.
Build 1 million stories for 1 million customers, resulting in better customer engagement and more value created. Find out how technology can transform your marketing,  get in touch here>>>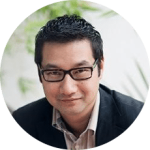 by Regan Yan, the CEO of Digital Alchemy.
Regan is a subject-matter expert in analytical database marketing and customer relationship marketing, as well as an in-demand presenter and keynote speaker at national and international events. He also authors thought leadership pieces on data-driven marketing that can be found on the DA Blog.
[pardot-form id="46577″ title="Blog Sign up test1″]